President's Greeting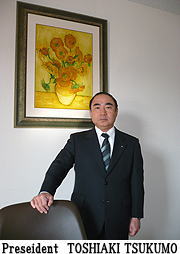 60 years has passed since we started our business together with our patrons, and now our new challenge begins.
We has involved with nature ever since our establishment in 1950.  At first, we were mining and selling the sand in Nagahama of Shodoshima Island.  As it is now, we are importing silica sand from Australia and Vietnam, and supply them consistently to our customers after magnetic separation, washing, drying and screening processes.
Our product is used for casting mold producing of auto mobile parts (crankshaft, camshaft, brake disk), agricultural equipments (combine, tractor, mower), machine tools (MC, NC), industrial machines (crane, bulldozer, shovel loader), ship parts (screw, status-fin) and textile machines in metal-casting industry.  They are important parts in various fields.  Then it also is used for various purposes in Engineering Works of Ceramics and Construction Materials and other industries and it helps our life.
There is the SiO2, (silica sand), which is most common component on earth.  To the present, people had mined it too much everywhere in Japan.  Then this action had made the change of sea terrain and oceanic flow, destruction of quay in a port.  Therefore it would be come to an end to mine the silica sand in Japan before long.
There is almost no singing sand left except about 20 places in Japan.  It seems that it don't sing if seawater and sand are not clean.
We make a living by sand which is the must asset in human life.  So we have to strive to mining, using and reusing thoroughly.  That is the primary responsibility of us, we believe.